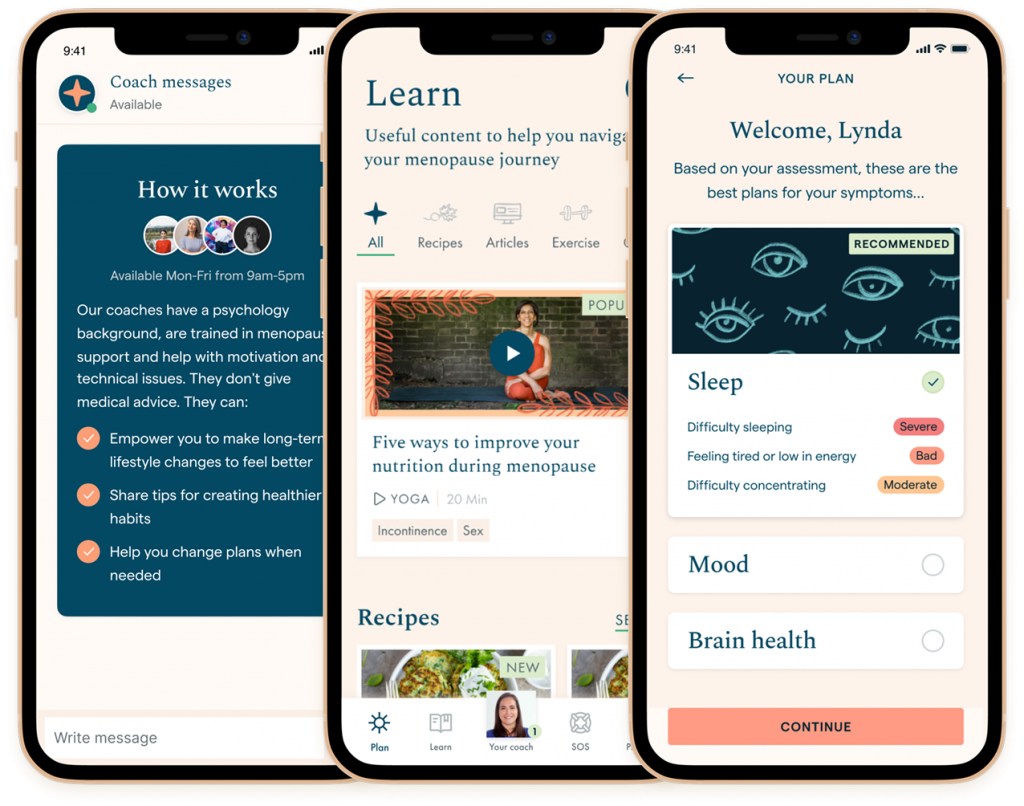 Effective menopause care. Designed for employees.
Support your workforce during menopause and improve productivity and retention. Our online care model includes everything needed, from clinical support to personalized behavioural change plans.
How it works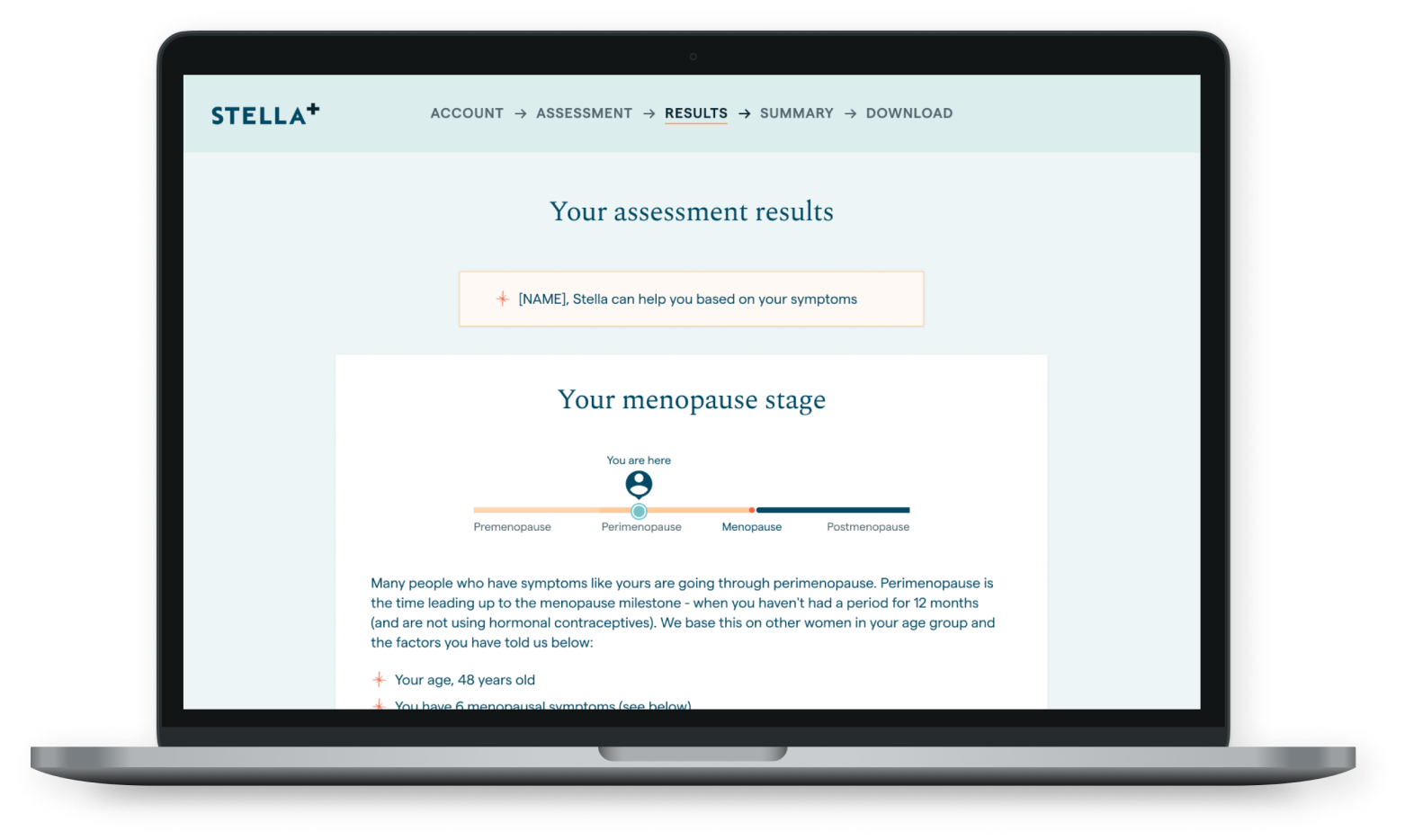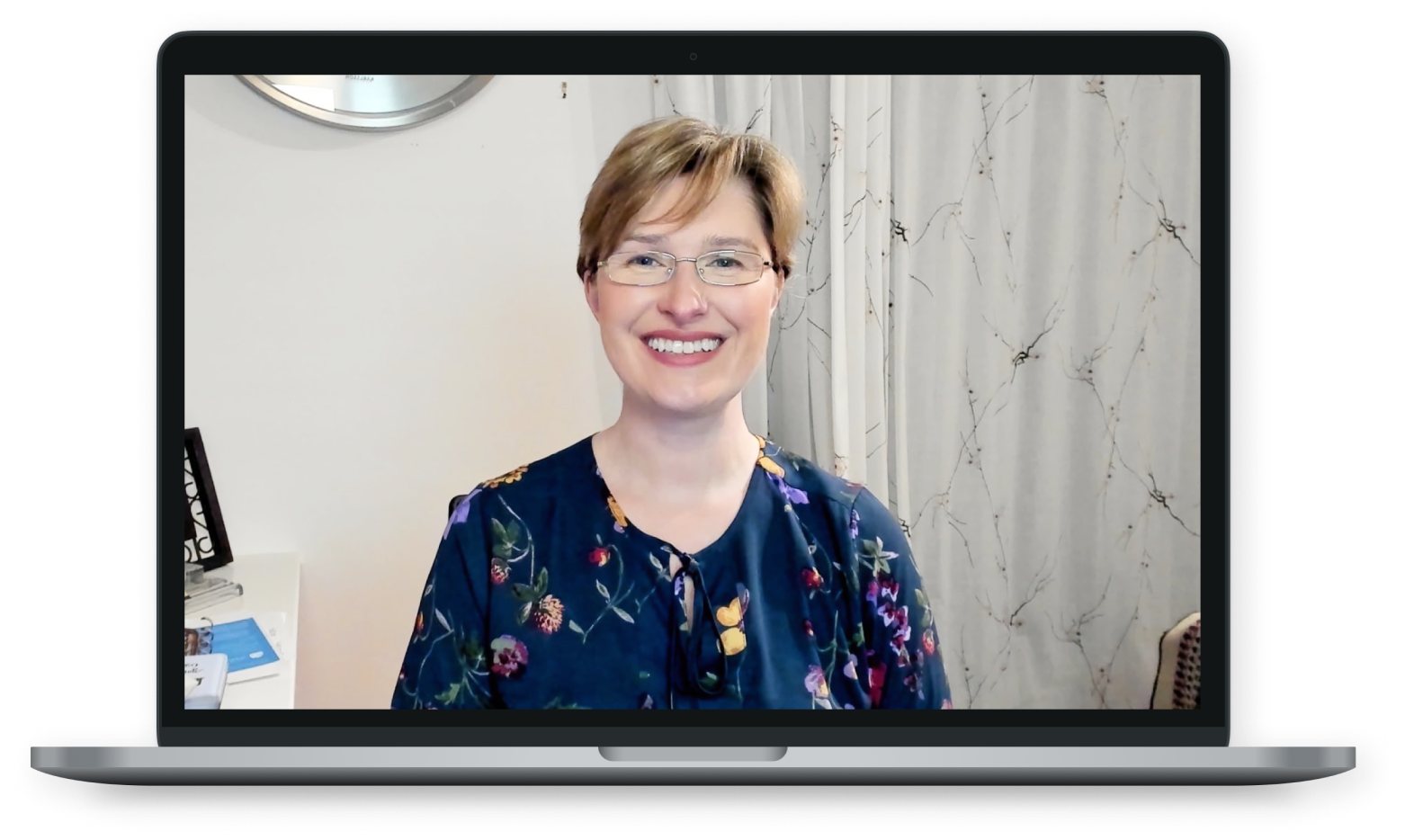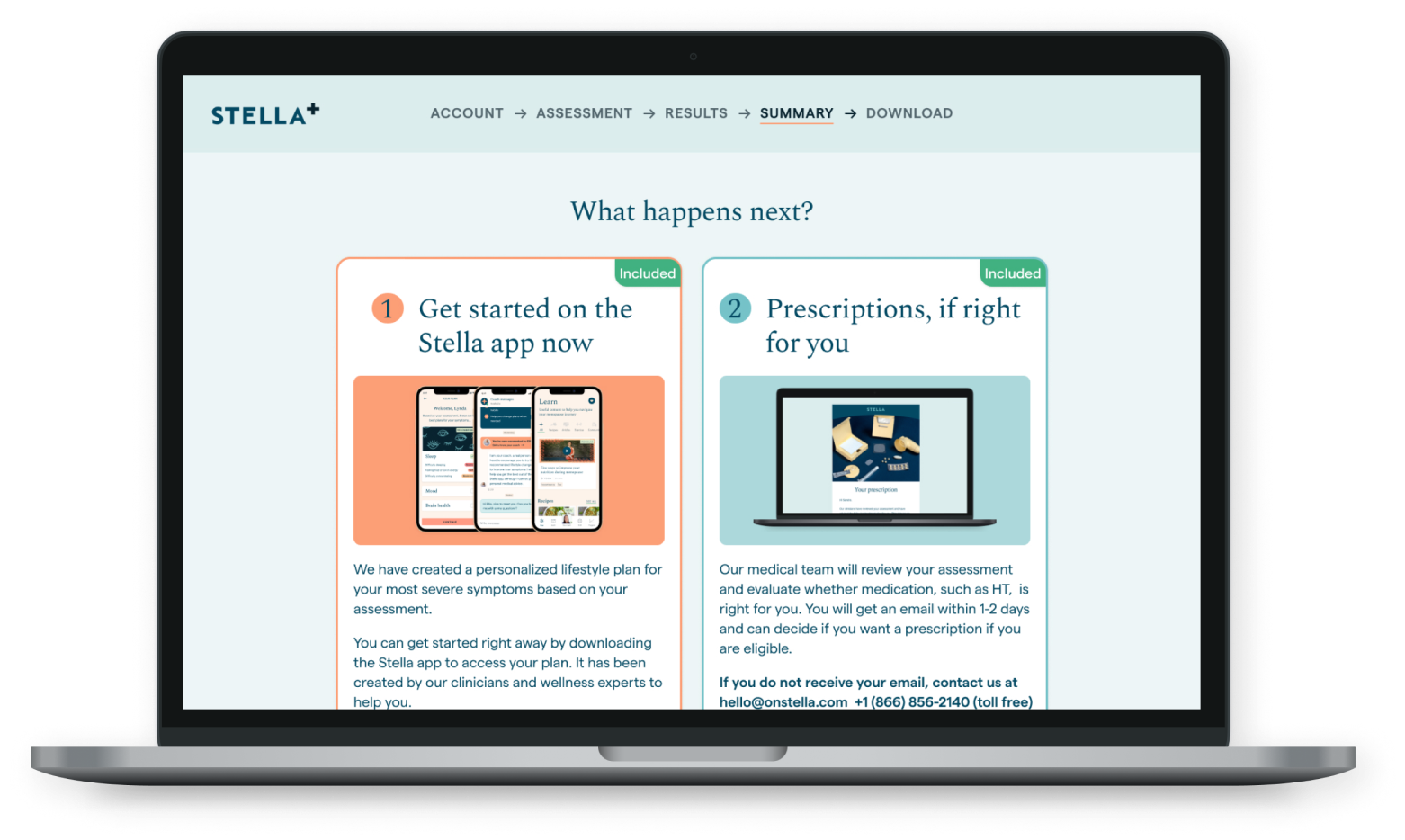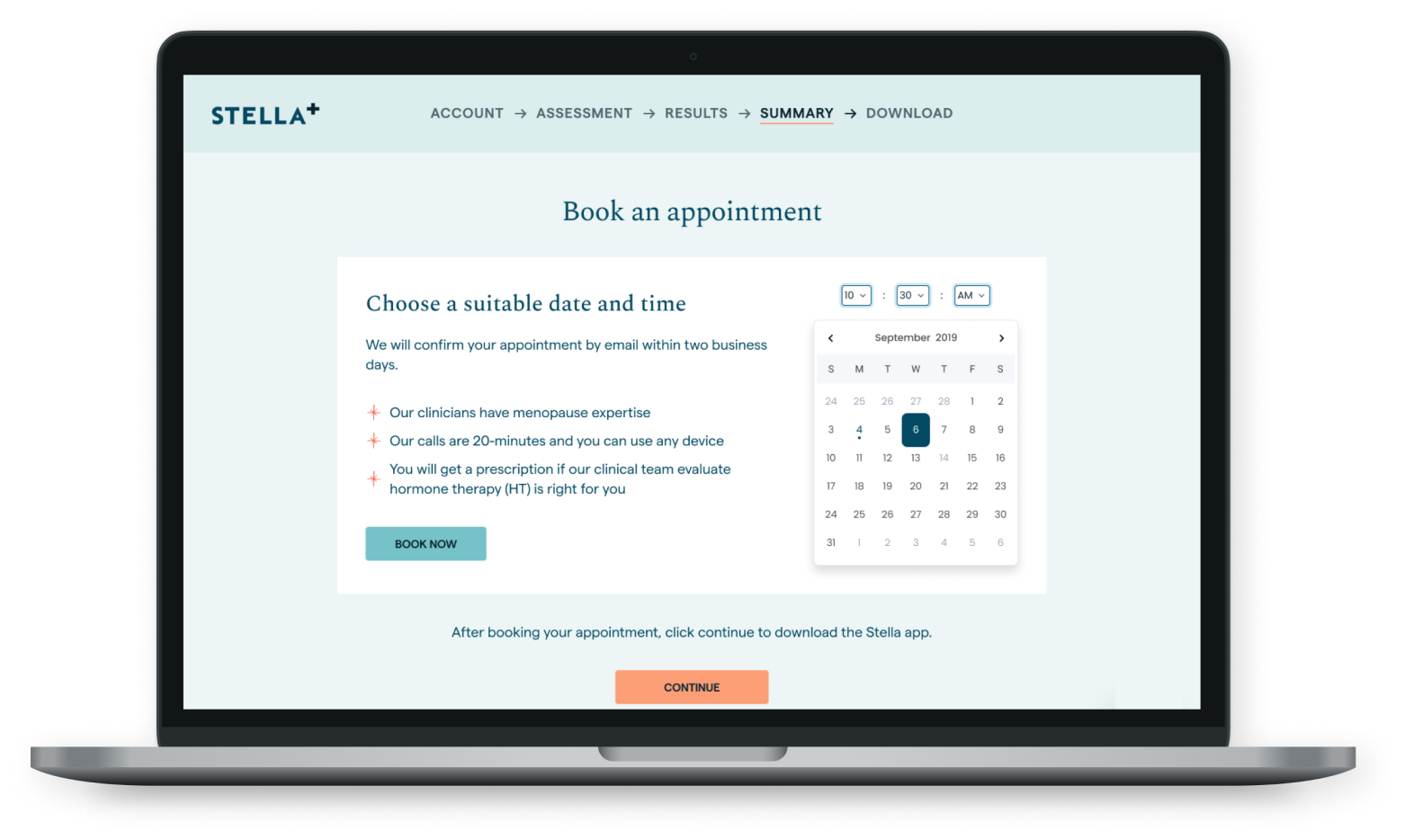 The impact of menopause at work
Many feel overwhelmed during menopause, resulting in resignations, sickness or passing up promotions.
60
%
Negatively impacted while at work
30
%
Missed work unexpectedly
8
%
Resigned from their position
Better support.
Better place to work.
Stella provides everything your people to need manage their menopause symptoms, such as sleep issues, mood changes, brain fog, weight gain and much more. Stella includes a personalized lifestyle plan with evidence-based information, plus clinical appointments and prescriptions, if it is right for them.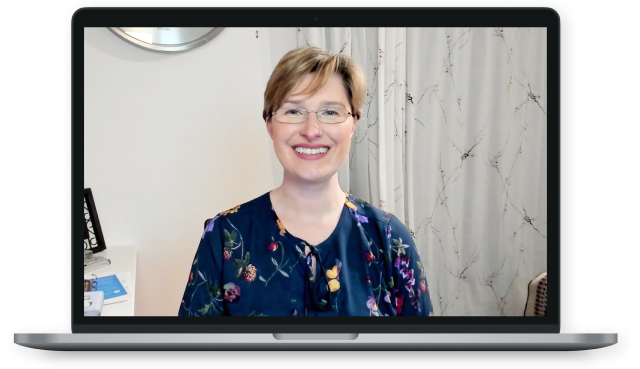 SPECIALISTS IN WOMEN'S HEALTH AND MENOPAUSE
Our clinician appointments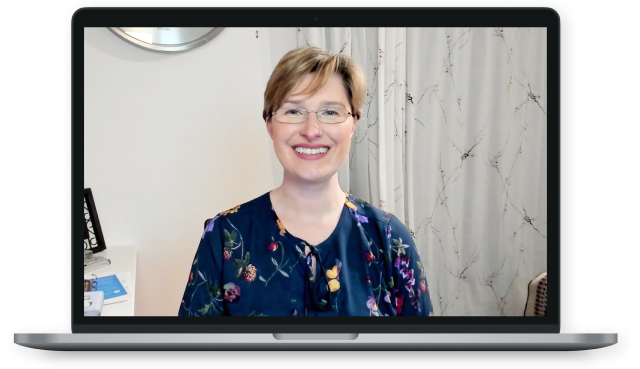 Convenient, hassle-free booking with our team who can recommend which treatments are most appropriate.
Our clinicians have menopause expertise
Book appointments easily through our friendly customer support
Appointment requests are completed within two working days
Appointments are 20-minutes and suitable for any device
Prescriptions sent to preferred pharmacy
PERSONALIZED BEHAVIOURAL PLANS
Stella menopause app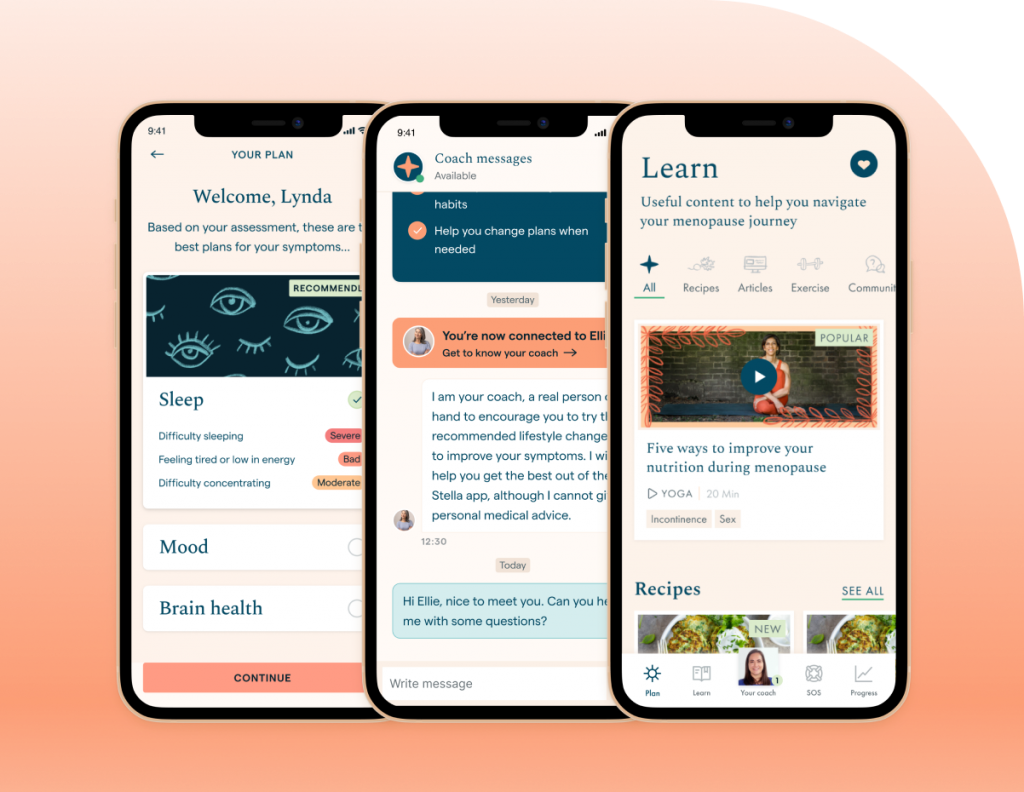 We create a personalized lifestyle plan for their most severe symptoms based on their assessment. Introducing healthy habits is hard, we use techniques proven to ease menopause symptoms. Plans include:
Cognitive behavioural therapy (CBT)
Stress management techniques
Sleep scheduling
Nutrition and physical activity
Pelvic floor physical therapy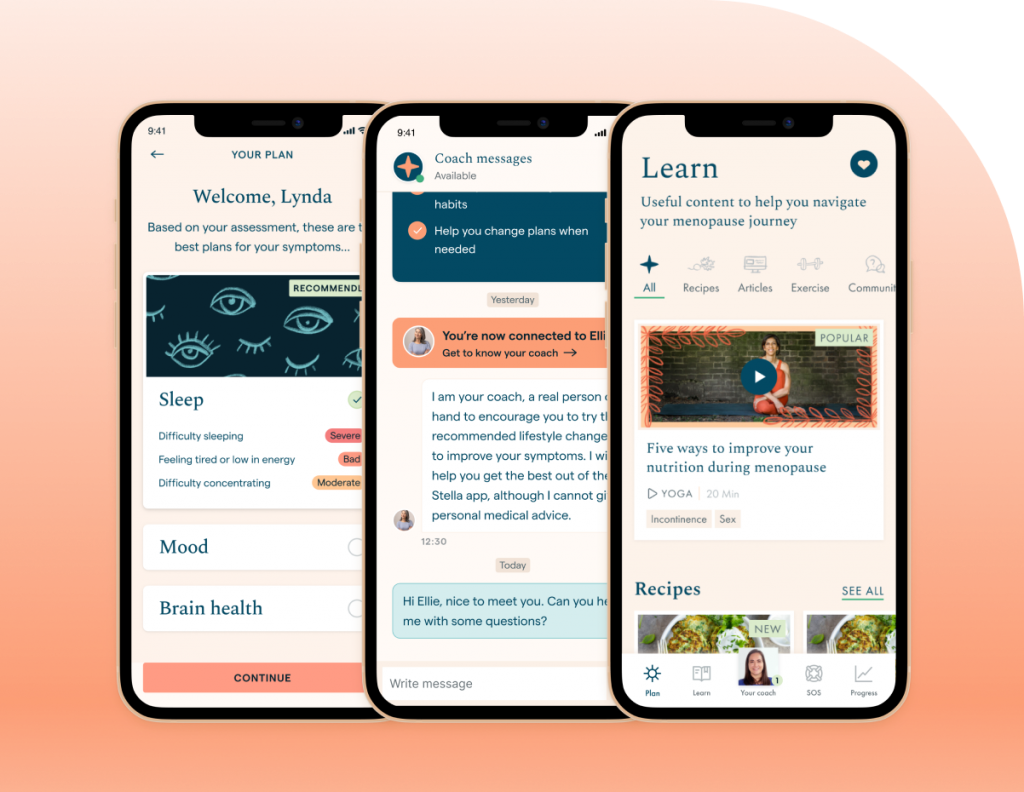 LEARNING MORE ABOUT MENOPAUSE
Understand treatment options
There are many decisions to make when it comes to HT, including which type to take and how to take it. We provide the answers so your people can make informed decisions. In just 15 minutes your employees can access:
Online appointment with clinical team about which treatment is right for them
App-based personalized behaviour plan and prescriptions
How does HT work?
HT replaces and stabilises estrogen and progesterone hormones, which fluctuate and fall to low levels during menopause and cause symptoms. It can be taken as tablets, patches and gels. For vaginal symptoms, it comes as a cream, suppository or ring.

For those with a uterus, progesterone is needed alongside an estrogen-based medication to lower the risk of endometrial hyperplasia, the thickening of the uterus lining. This can be in the form of tablets or an inter-uterine device, such as a Mirena IUD.
Stella and menopause in the workplace
FAQs
How does menopause affect employees?

Many women rise into senior leadership positions in their 40s or 50s, just when perimenopause, the transition into menopause, generally occurs. Menopause symptoms start just as they might be stepping up and earning at their highest potential. It can feel like their body is betraying them.

Menopause is not something that happens in midlife, it can happen much earlier. Some can experience early menopause and induced or surgical menopause due to treatment.

There are more than 40 menopause symptoms that can be difficult to pinpoint, change all the time and are unique to each individual. They can be physical, such as hot flashes, joint pain, urinary incontinence and heavy periods. They can also be mental with anxiety, depression, bouts of low confidence and difficulty sleeping. Imagine 10 years of difficulty with sleeping? No one knows what to expect as menopause differs from person to person. But make no mistake, menopause symptoms are significant.

A day in the life of someone with menopause symptoms could involve dealing with a sudden hot flash, rushing to the bathroom to mop up sweat and boiling while everyone else is freezing. They might want to skip a meeting or send someone else because a wave of anxiety makes them feel overwhelmed. Or it could be they want to work from home because very heavy periods have made it virtually impossible to move far.

More than 50% of women are too scared to talk about menopause at work. Menopause has historically been a taboo topic spoken about in hushed tones – if at all. The symptoms are tough enough without having to manage them in secret.
How does menopause impact workforce retention and sickness?

A 2023 study of 4,440 women aged 45 – 60 conducted by the Mayo Clinic found that 11% of women reported missing work in the last 12 months due to symptoms like hot flashes and sleep disturbance. That same study conservatively estimated that the total economic burden associated with menopause symptoms is $26 billion annually in the United States alone.

Menopause can negatively impact careers and 11% of women didn't take up a promotion and 8% resigned because of menopausal symptoms. That means for every female at the Director level who receives a promotion, two other female Directors are choosing to leave the company, according to a study by LeanIn and McKinsey & Company. These women are leaving the workforce at the peak of their careers not because they don't want to work, they just aren't getting the support they need from their employers.

What does it mean for your workplace? It means a significant loss of senior talent, significant knowledge drain, difficulty increasing gender diversity, increased absenteeism and a loss of productivity. And yet, supportive treatment is comparatively cost-effective.

Representation matters and supporting senior employees to stay in your company means younger staff have inspirational role models.
How can you improve support for menopause at work?

While you are considering getting serious about menopause, there are some simple changes to the physical setup of offices, resetting expectations around work culture and updating health care policies that can make a difference.

1. Offices

Open-plan offices are a disaster for controlling the temperature and privacy when you're having a hot flash or need a moment to regroup. Employers don't need to change the entire floor plan overnight. A private break-out room, desk fans, period products in the restroom and letting people move away from radiators or hot sun can help.

If there are uniforms at your workplace, use a thinner fabric, making it more breathable or even sweat-wicking can make a huge difference to comfort, as well as having a few extra around, if a quick change is required during the day.

2. Culture

Pretending the natural process of aging doesn't exist is not only a waste of time, it can lead women to leave the workforce at the peak of their careers. Particularly women from underrepresented minorities. Bring the discussion right into the workplace and include menopause within existing training on things like diversity and inclusion, anti-harassment, mental health or parental leave. Invite all genders and ages to understand menopause, so people can learn how to be supportive.

3. Policy

When symptoms are out of control, normalize staff asking for more frequent breaks or pausing while having a hot flash. Leniency from an office around scheduling or more frequent breaks will make a huge difference in retention.

Including menopause as a topic of conversation in corporate communications, employee handbooks, and training gives women the space, support, and education needed to manage menopause without guilt, shame, and embarrassment. Menopause is complex and unique to each person. Treatment for symptoms can take many forms and visits with a gynecologist, endocrinologist, pelvic-floor physical therapist, or dermatologist could all be included. This is complex, time-consuming, and expensive. This is where Stella comes in, offering all the information and support needed in one place and on-demand.
What menopause care packages does Stella offer?

We offer two packages:

1. Stella menopause app

We have designed Stella to ensure we can support 100% of women who seek help with their menopause symptoms. Hormone therapy is not the right treatment option for all symptoms, as there are several physiological causes.

Stella offers personalized plans and support from trained experts to manage an employee's specific menopause symptoms. They can include sleep disturbance, mood changes, feelings of being overwhelmed, brain fog, weight gain, hot flashes and sweats, low libido and bladder leaks, plus much more.

Stella uses clinically proven cognitive behavioral therapy, pelvic floor physiotherapy, mindfulness and stress management techniques. They help your employees make long-term lifestyle changes across sleep, stress management, nutrition and exercise to find relief.

Each session introduces a new topic related to specific symptoms using a mix of interactive and video-guided exercises, techniques and habits. Plans are flexible to adapt to changing or new symptoms.

Also inside the app:

Ongoing support from real coaches with the ability to decide how much interaction is needed to reach goals
Mindfulness for menopause with guided meditation and soundscapes to boost focus and energy, plus help relaxation and sleep
Hundreds of articles on menopause and symptoms, interviews sharing other menopause journeys, exercise videos and recipe inspiration with menopause-friendly foods
An active community of like-minded people
Regular online events with experts on menopause symptoms and experiences

Available from the Apple App Store or Google Play. We provide a code to input at sign-up so it's free at the point of service. We are also available on several major benefits platforms, such as BenefitHub, Betterspace, Heka and YuLife.

2. Personalised treatment recommendations

Stella offers personalized menopause care. Our in-depth online assessment collects over 200 specific clinical indicators to enable specific treatment recommendations, which are always reviewed by a physician. It also includes app-based symptom-specific behavior change programs and community support.

The assessment asks the individual to rate their symptoms and the app tailors a program to focus on their most bothersome symptoms first. What sets Stella apart, as a leader in symptom improvement is that we provide a full range of treatment options personalized to the individual in one place, up to and including prescriptions if appropriate.
What onboarding support do you offer?

We offer several onboarding options, from "menopause 101" webinars to demonstrations of the Stella experience, including testimonials from some of our members. In addition, Stella provides weekly email newsletters for applicable females that includes educational content and opportunities to engage with the community. Our experience is that 52% of targeted women who receive this newsletter open it and 15% of those women engage by clicking through to specific content that speaks to them. That experience highlights the unmet need and, we believe, speaks to the power of what Stella can deliver.

We would also be happy to develop an onboarding program suitable for your specific work environment, and can do so on a schedule that works for you.
Why does menopause at work matter?
Stella CEO Andrea Berchowitz, explains the link between menopause in the workplace and gender equity for Ted Talks, Global Idea Search.